The dysfunctional family
Here is our simple stick brick building guide to America's number one animated dysfunctional family. The characters from left to right are; mum, dad, son, eldest daughter and baby daughter. All characters are constructed from standard 2x2 locking construction bricks. In addition to the picture below you could also try adding their pet cat (1 Black brick) and their pet dog (2 Brown bricks on top of each other). There is much debate surrounding the t-shirt and dress colours of the son and eldest daughter; we have opted for them both having Orange, but you could easily replace with Red instead.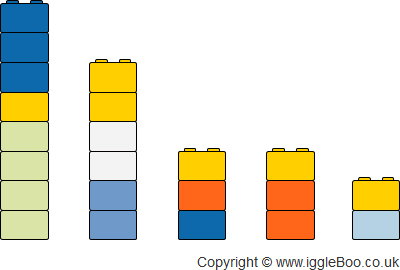 All colouring pages, images and PDF files are provided free for personal, nursery, classroom or library use only. For commercial use please contact us.